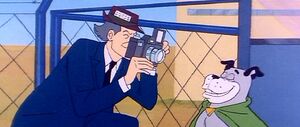 A camera is a device used for taking photographs. Certain types of cameras (camcorders) can take video and audio pictures as well. Cameras of that type are used for making films and television programs.
Wonder Dog posed for a camera that Doctor Rebos had, when he was disguising himself as a jounalist for Bow-Wow Magazine.[2]
Loco was going to take a picture of Rebos and Wonder Dog together, but he aimed the camera backwards, and the flash of light blinded his eyes.[3]
The Cape Courageous Space Center had cameras in place for their closed-circuit television system.[4]
Appearance
References
External Links
Community content is available under
CC-BY-SA
unless otherwise noted.