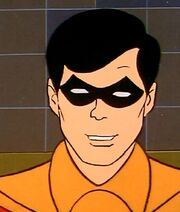 C.C. Haly is the ringmaster and owner of Haly's Circus. He was present when Dick Grayson's parents; John and Mary Grayson were murdered by Tony Zucco, which meant the end of the circus's Flying Graysons act.
Notes
C.C. Haly never appeared in the series or in any other related material, but he was indirectly referenced in the The Planet-Splitter, in which Robin tells his fellow Super Friends about his days in the circus.
C.C. Haly made his first appearance in Detective Comics Vol 1. # 38 (April 1940).
Appearances
References
↑ As seen in The Planet-Splitter.
↑ The name's Haly's Circus and C.C. Haly weren't used in the episode, this is just conjecture based upon DC Comics.
External Links
Community content is available under
CC-BY-SA
unless otherwise noted.