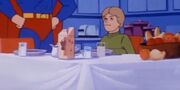 Breakfast was the first meal of the day, usually considered the most important meal of the day, and it often consisted of eggs, coffee, orange juice, cereal (with milk) and other breakfast foods. According to Superman, when you don't eat your breakfast, your not "at your best."[2]
Marvin once got pizza for Wonder Dog to eat for breakfast, and Wendy gave him some medicine to settle his stomach which was aching after eating the pizza too fast.[3]
When Wendy tossed an RC FRERP egg at the Dynamic Duo, who were trapped on top of a Ferris Wheel, Batman asked; "What are they trying to do, serve us breakfast?"[4]
Common breakfast foods
Background Information
According to Superman, the Grand Prize of the Post Cereals Create a Villain Contest was winning a trip to Hollywood to have breakfast with the Super Friends and the supervillain that the kids' created.[5]
See also
References
External Links
Community content is available under
CC-BY-SA
unless otherwise noted.