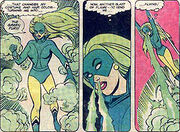 Brazil is a country in South America. The majority of the Amazon Rainforest is located in Brazil, and Green Fury of the Global Guardians is also a native of this country, who works for the Brazilian branch of Wayne Enterprises.
Wendy Harris, believing that Mr. Mergen was an expert about rocks, told him that she had seen a Brazilian agate.[2]
Locations
Natives
Notes
Brazil first appeared in Adventure Comics # 64 (July 1941).[3]
References
↑ As seen in a Super Friends comic book.
↑ As seen in The Baffles Puzzle.
↑ For more information on that DC comic book, click here.
External Links
Community content is available under
CC-BY-SA
unless otherwise noted.