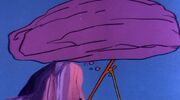 The word boulder is a term used to describe rocks of incredible size.
A boulder was used for Superman's fantastic drill shot.[2]
Aquaman uses a boulder as a battering ram to break open the door to the great dam's spillway.[3]
Walk water is a unique type of water from the Molesville Lagoon that can give both trees and boulders, as well as smaller rocks, the ability to move about by themselves.[4]
References
External Link
Community content is available under
CC-BY-SA
unless otherwise noted.