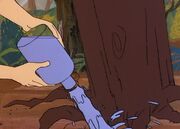 A bottle is usually a glass or plastic container, although a bottle can be made of a variety of materials.
Bottles are used for containing a variety of things, such as water (referred to as bottled water), milk, soda, wine, beer, juice and a variety of other drinks. Bottles are also used to contain lotion and oil.
Superman used a large rock to seal the top of a volcano, much like a cork in a bottle.[2]
Maximus Mole filled up a bottle with walk water, a special type of water that was in the Molesville Lagoon, which was a source of freshwater located underground, in the land of Molesville.[3]
When Doctor Hiram Gulliver shrunk the Super Friends members: Superman, Batman, Robin, Aquaman and Wonder Woman down to a small size, he placed them all in what he referred to as shatter-proof bottles. But they were actually jars, not bottles.[4]
There was a carnival game at the Blinken and Bristol Circus that involved throwing balls at bottles in order to knock them over and win a Kewpie Doll.[5]
References
External Link
Community content is available under
CC-BY-SA
unless otherwise noted.