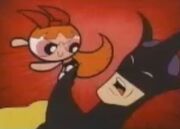 Blossom is a member of the Powerpuff Girls. She is the smartest of them. She is often seen as the most mature, level-headed and composed member of the group, though she can be fussy, forgetful, overbearing, vain and overly analytical at times.
Powers and Abilities
Appearance
Super Friends and the Powerpuff Girls
Notes
Blossom first appeared in The Powerpuff Girls animated series and later appeared in DC Comics.
References
↑ For more information about this DC comic book, click here.
External Link
Community content is available under
CC-BY-SA
unless otherwise noted.