Super Amigos

This page has material from the Super Amigos franchise. This includes any Superfriends or Super Powers material in the Spanish or Portuguese language. Although some material may be canon, others may be subject to dispute.
(This template will categorize articles that include it into the "Super Amigos" category.)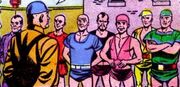 Blorians were a alien race of Humanoids whose homeworld was a planet called Blor.
The supervillain called the Kryptonite Kid was a Blorian.
Physiology
Little is known about the physiology of the Blorians, however they were Humanoid, appearing identical to Humans.
One major difference was their telepathic abilities.
They were even capable of manipulating dreams telepathically.
This section has not yet been written.
Appearances
Notes
References
↑ As seen in the comic story: The Dreams of Doom (1960).
↑ Reprinted in Super Friends # 23 (1980).
↑ For more information about that DC comic book, click here.
Community content is available under
CC-BY-SA
unless otherwise noted.