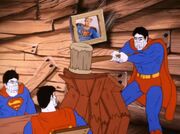 The Bizarro Code was a nonsensical written document, that Bizarros took as law.
Anyone violating the Bizarro Code was considered a criminal under the law of the Bizarro Nation on Bizarro World.[2]
The Bizarro Code was written as follows:
And due to the Bizarro Code, many things on this planet were very backward from Earth indeed, for example, airplanes flew upside down, while pickup trucks had square-shaped wheels rather than round-shaped wheels.[3]
Bizarro Number 1 occassionaly liked to call "disorder" to his meetings with the other Bizarro Supermen in the Hall of Injustice.[4]
Notes
References
Community content is available under
CC-BY-SA
unless otherwise noted.