Billie Rae Bates
Birthname: Billie Rae Bates

Height: 5'3

Birthplace: Michigan

Occupation: Journalist, Actress, Writer

Official Website: BillieRaeBates.com
A journalist of both print and broadcast, Billie Rae Bates' work over the years has included interviews with all manner of actors and other Hollywood pros, as well as many artists and writers in the comics industry for her on-camera work with TV shows based in Washington, D.C., and Detroit.
In 1994-1995, she hosted several episodes of the half-hour "Red Cross Currents" TV series produced by the Bay, Genesee and Saginaw County (Michigan) chapters of the American Red Cross and airing on WNEM, Channel 5. After years of print work, she returned to television in 2010, working for the then-brand-new "Comics Continuum" half-hour entertainment series based in Detroit, hosting several on-the-road episodes from locations such as the San Diego Comic-Con, C2E2 in Chicago and Mega-Con in Orlando. She also did a wealth of correspondent work for the series, then in 2011 began hosting and correspondent work for the Washington, D.C.-based "Fantastic Forum" series, airing on several stations in D.C., Baltimore and Philadelphia.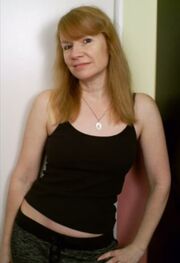 A graduate of Michigan State University's School of Journalism, BRB has been a professional writer and editor of the printed word for more than two decades, including 10 years in the daily newspaper industry at papers such as The Detroit News, The Saginaw News, and the Wausau (Wis.) Daily Herald. She's written three novels, two of which are set in Detroit, as well as the BRBTV series of fact books and reports, which cover the prime-time soaps "Dynasty" and "Dallas," the action-adventure hits "The Dukes of Hazzard," "Wonder Woman" and "The Green Hornet," and a host of animated series. She's parlayed that love of classic TV shows into a web series called "Terrific TV Toys," airing on YouTube and exploring toys (most of which are from her own collection) that celebrate various vintage shows. Since 2006, she's kept up a news blog focusing on classic television, and she's also blogged for Congoo.com and the OohLifestyle.com. She reviews books for Foreword Reviews, and she's the creator, writer and photographer of two yearlong photo essays, the much-discussed "My Mother's Clothing" and "The Inexplicable Lives of Dolls."
A Michigan native who has lived in Detroit, Atlanta and Washington, D.C., BRB has also been known to do some acting! She's appeared in several feature films, both big-budget and independent productions.[3]
Super Friends roles
References
↑

This biography of her was taken from her official website.
External Links
Community content is available under
CC-BY-SA
unless otherwise noted.