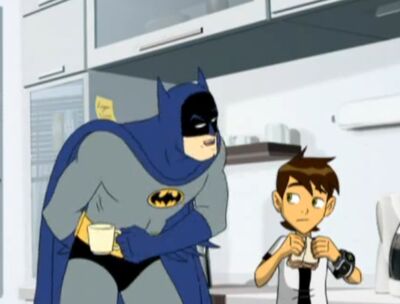 Ben Tennyson was a normal ten-year-old boy until the day he found the Omnitrix. Once he put on this mysterious alien device, he could not take it off. The Omnitrix gave Ben the power to transform into ten different alien life-forms, and he became a reluctant superhero. With the help of his Grandpa Max and his cousin Gwen, Ben defeated Vilgax, an alien warlord determined to rule the Earth. Ben continued to fight to defend the Earth but before he turned eleven he found a way to remove the Omnitrix. His life went back to normal, albeit temporarily.[1]
Ben was once a guest in the Hall of Justice, probably being trained as a super-hero in a similar manner that Marvin, Wendy and the Wonder Twins were. While on their break in the break room, the heroes are discussing the boy, and Batman even suggests he may be slightly jealous of the boy. Ben comes into the break room, and gets his sandwich out of the refrigerator and while he's there, he tells Superman he has Superman pajamas, and he jokes around with Batman, pretending he can't remember his name, and he asks for his autograph. He then gives Aquaman half of his tuna sandwich.
Appearances
Notes
Ben 10, the original series first aired in 2005 and it was heavily inspired by Dial "H" for Hero, a comic book published by DC Comics.
Powers and Abilities
References
↑ This is conjecture based upon the cartoon series, which may or may not be canon in the Earth-1A universe.
↑ He is seen in this episode only in his alien form as the Grey Matter.
↑ This was his first appearance in DC Comics, but it wasn't part of the mainstream DC Universe.
Community content is available under
CC-BY-SA
unless otherwise noted.