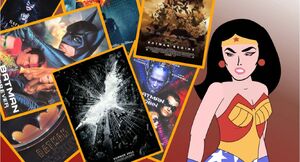 The Batman films are the movies that are based upon the character of Batman, one of the Super Friends. The first one starred Adam West, and was released in 1966, then in the late eighties, the Tim Burton/Joel Shumacher films were released four in all, then in the early 2000s, the Christopher Nolan films were released, ending in 2012, with a total of three films. It wasn't until 2016 when Batman crossed over into the Superman films, in which he is played by actor Ben Affleck.
In the film: Batman Forever, Robin says; "holey rusted metal, Batman!" This is a reference to the early Batman live action and animated series, as well as the Super Friends series, in which Robin is often heard saying "Holy (whatever) Batman!" In this film, the word "Holey" refers to the amount of holes that was in the metal.
Wonder Woman mentions the Batman films in the Meanwhile, At The Hall Of Justice episode called Wonder Woman's Sex Tape. She says that "Batman can't stop making movies." Then Batman tells her in a deep dark voice: "One Billion gross worldwide, and I didn't even have to stroke off a monster to do it!"
Michael Keaton as Batman has been seen on Super Power figures card artwork for some of the overseas bootleg figures. Also, the first wave of the DC Comics Super Heroes action figures, simply called "Batman," was actually based upon the 1989 film. One of the characters, Bob the Goon was made exclusively for the film.
References
↑ As seen in Wonder Woman's Sex Tape.
External Links
See also
Community content is available under
CC-BY-SA
unless otherwise noted.