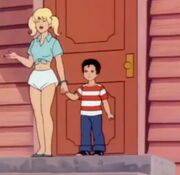 Babysitting was an occupation that involved temporarily watching and taking care of a child.
Often times such activities were performed at places such as the Metropolis Daycare or similar establishments.
Still, babysitting could also be taken care of at the legal guardian of the child's home, or at the babysitter's home.
When Clark Kent was a young boy, a girl named Melissa was his babysitter.
On one occasion, he made it difficult for her, when she tried to get him to go to bed and 8PM, because he used his heat vision to ruin the clock.
He continued watching a western and other TV shows on television until nine, when she realized the clock must have been broken.[2]
References
External Link