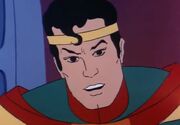 Astro-Scientist was a was a scientific rank or position on the Kryptonian Science Council.[2]
Just prior to the Destruction of Krypton, Jor-El was the Astro-Scientist of the Science Council, although Ka-Do had planned to have him deposed of that position when he learned that he planned to construct space arks to evacuate the population of the planet.
Since Krypton perished, Jor-El was the last Kryptonian to be named Astro-Scientist on Kryptonian soil.[3]
It is possible that Argo City and Kandor still appointed certain Kryptonians as Astro-Scientists following Krypton's destruction, since those cities did survive. This however is unknown.
Appearance
References
Community content is available under
CC-BY-SA
unless otherwise noted.