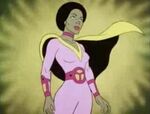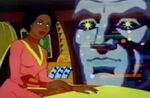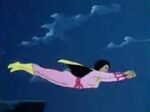 Astraea is a Superhero, and member of the Space Sentinels.
The shape shifting Astraea, along with Hercules and Mercury was approached by the supercomputer Sentinel One. To form a team to protect mankind, Astraea agreed to use her power to morph into nearly any living animal to help. She was also given eternal youth by Sentinel One. Astraea and the others later become Superheroes and called themselves the Space Sentinels.
Powers and Abilities
Unknown.
Appearances
Space Sentinels (TV series) (1977):
Notes
External Link
Community content is available under
CC-BY-SA
unless otherwise noted.