Super Amigos

This page has material from the Super Amigos franchise. This includes any Superfriends or Super Powers material in the Spanish or Portuguese language. Although some material may be canon, others may be subject to dispute.
(This template will categorize articles that include it into the "Super Amigos" category.)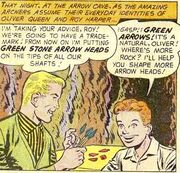 The Arrowcave was located beneath the Queen Estate in Star City.
Much like how Batman used the Batcave as his headquarters; Green Arrow and Speedy likewise made use of this cave for the same purpose.
This was where they stored their Arrowcar and many other things that they used for crime fighting.
This section is not yet written.
Appearances
Notes
References
↑ As seen in the comic story: The Case of the Vanishing Arrows! (1959).
↑ Reprinted in Super Friends Annual # 2 (1978).
↑ For more information about that DC comic book, click here.
External Links
Community content is available under
CC-BY-SA
unless otherwise noted.