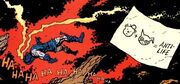 The Anti-Life Equation was a mathematical equation that Darkseid of Apokolips was trying to discover.
Had he ever figured it out, it would have granted him total control over the minds of all sentient beings.
Notes
The Anti-Life Equation was created by Jack Kirby and was first mentioned in Forever People # 5 (November 1971).[2]
References
↑ As seen in the comic book Superman and Batman: World's Funnest (2000).
↑ For more information about this DC comic book, click here.
External Links
Community content is available under
CC-BY-SA
unless otherwise noted.