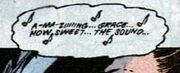 Amazing Grace was a Christian song written in the year 1772.
It was written by John Newton; an English religious leader.
Lyrics
Amazing grace! how sweet the sound,
That saved a wretch; like me!
I once was lost, but now am found,
Was blind, but now I see.

'Twas grace that taught my heart to fear,
And grace my fears relieved;
How precious did that grace appear
The hour I first believed!

The Lord hath promised good to me,
His word my hope secures;
He will my shield and portion be
As long as life endures.

When we've been there ten thousand years,
Bright shining as the sun,
We've no less days to sing God's praise
Than when we first begun.

This section has not yet been written.
Appearances
References
↑ As seen in the comic story: What's Black and White and Black and White and Black... (1990).
↑ This comic was reprinted in Super Powers # 24 (1992).
External Links
Community content is available under
CC-BY-SA
unless otherwise noted.