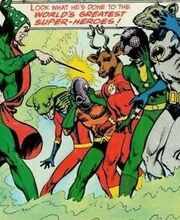 Alchemy was practiced by someone whose occupation was called an alchemist, such as the 16th century alchemist named Paracelsus.[2]
An alchemist basically was able to transform a metal into another type of metal. For example, Hank and Ben used their quark rectifier to transform ordinary quarks into whatever metals they desired.[3]
Firestorm's super powers allowed him to manipulate matter in such a way that he could even transmute materials into whatever he chose. He even changed fire into snow on at least one occasion.[4] His powers were limited though, as he couldn't change any form of organic matter.
References
External Links
Community content is available under
CC-BY-SA
unless otherwise noted.