Adam West
Birthname: William West Anderson

Born: September 19, 1928

Died: June 9, 2017

Birthplace: Seattle, Washington, USA

Years Active: 1950s-Present

Spouse: Billie Lou Yeager (1950-1956); Frisbie Dawson (1957-1962); Marcelle Tagand Lear (1971-Present)

Best Known As: "Adam West is Batman!" A phrase commonly used by many fans throughout the world.

Official Website: AdamWest.com
Background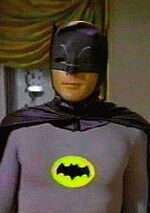 Adam West is widely considered the ultimate Batman actor. He portrayed him on a number of occasions, in the the 1966, original live action series, as well as in Legends of the Superheroes (1979). He's also voiced the character for animated shows, such as; The New Adventures of Batman (1977), SuperFriends: The Legendary Super Powers Show (1984) and The Super Powers Team: Galactic Guardians (1985).
Though most remember West's campy portrayal of Batman in the 60's, many fans have come to love his much darker take on Batman in The Super Powers Team: Galactic Guardians episode The Fear, in which for the first time on television, Batman's origin is shown.
Voice on Super Friends
After more than 10 years of Olan Soule doing the voice of Batman, Adam West took over. It appeared to be bitter sweet for many fans. While they loved Olan, Adam West was Batman.
External links
Community content is available under
CC-BY-SA
unless otherwise noted.