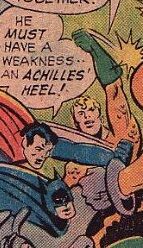 An Achilles's Heel was any type of weakness a character might have had.
Superman for example, was weakened by Green Kryptonite; making that his Achilles' Heel.
The term originated from Greek mythology, a reference to the legendary Achilles, who was a demigod and a soldier during the Trojan War.
This section is not yet written.
References
External Link
Community content is available under
CC-BY-SA
unless otherwise noted.