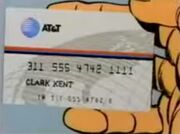 AT&T was a telecommunications company in the United States of America.
Clark Kent had his own AT&T card which he often used in emergency situations.
On one occasion he used it in a phone booth to telephone London before some meeting was over. Lois Lane was worried they wouldn't make it back to the office in time to phone London, and she eagerly hailed a taxicab.
But Clark already had it taken care of in the phone booth thanks to his AT&T card.[2]
Video
AT&T in the real world

In the real world, AT&T is the owner of WarnerMedia, which in turn makes them the owner of the Superfriends franchise.
The company purchased Time Warner on June 12, 2018.
As such, the name of the company was changed from Time Warner to WarnerMedia.
References
↑ As seen in this video from the 1980s.
↑ As seen in this video from the 1980s.
External Link
Community content is available under
CC-BY-SA
unless otherwise noted.