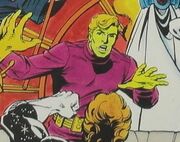 2959 was the last year of the 2950s and the fifty-ninth year of the thirtieth century.
On December 30, Querl Dox was born on Colu.[3]
On February 21, Jo Nah is born on Rimbor.[4]
On April 5, Chuck Taine was born on Earth.[5]
Also, sometime this year; Garth and Ayla Ranzz was born on Winath.[6]
Previous Year
Next Year
References
External Link
Community content is available under
CC-BY-SA
unless otherwise noted.