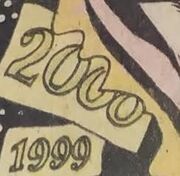 2000 is presumeably the year that the 1980s film Frankenstein 2000 Meets the She Wolf takes place in.[2]
This year, which kicked off the first decade of the 21st century, was chronicled in the book A History of the Earth from the Year 2000 to 7000.[3]
On the tenth of March, John Sladek died in Minnesota.[4]
The film known as Cast Away was released in movie theaters on December 22, 2000.[5]
When Mordru kidnapped members of the Justice League and Earth-Two's JSA, he brought them through the timestream, and they passed over the year 2000 before finally arriving in the year 2977.[6]
The JLA and JSA pass over this year once again after the Demons Three push them into the timestream; sending them hurling toward their own time, only to snatch them back before they arrive there.[7]
Mr. Mxyzptlk and Bat-Mite were having a magical battle and while doing so, they ended up in the Real World circa 2000. They were unsettled being there, and they immediately opened up a space warp to leave that universe, pretending they never seen it.[8]
Previous Year
Next Year
References
External Links
Community content is available under
CC-BY-SA
unless otherwise noted.