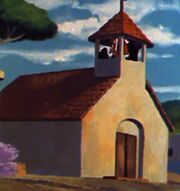 The 1st century was the first century of our common era (CE), or as it is also referred to as "Anno Domini," which is Medieval Latin which means "In the day of our Lord;" referring to Jesus Christ, the son of God.
This century began on January 1, 1 AD; and ended on December 31, 100 AD.
It was during this century that Jesus was on the Earth, and was eventually executed by the Jews under the Roman Empire in circa 33 AD. With that, Christianity was born on Earth.[2]
Notable events
5 AD
The Apostle Paul is born in Asia Minor.
17 AD
Saint Timothy is born in Asia Minor.
33 AD
Jesus Christ is crucified in Jerusalem.
62 AD
Paul writes his First Epistle to Timothy.
67 AD
The Apostle Paul dies in Rome.
97 AD
Saint Timothy dies in Macedonia.
Decades
10s
20s
30s
40s
50s
60s
70s
80s
90s
Previous Century
Next Century
2nd century, 3rd century, 4th century, 5th century
References
↑ As seen in The Ape Army of the Amazon (1966).
External Links
Community content is available under
CC-BY-SA
unless otherwise noted.