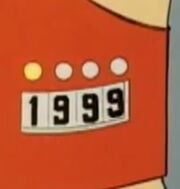 1999 is the final year in the 1990s decade, and ninety-ninth year of the 20th century.
In 1985, the year 1999 was visible on Kronos' time belt when he transported himself back to the future.[2]
When Mordru kidnapped members of the Justice League and Earth-Two's JSA, he brought them through the timestream, and they passed over the year 1999 before finally arriving in the year 2977.[3]
Allen Funt died in California on the fifth of September.[4]
Previous Year
Next Year
References
External Links
Community content is available under
CC-BY-SA
unless otherwise noted.