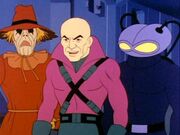 1983 was the fourth year of the 1980s and the eighty-third year of the 20th century.
Carrie Kelley of Earth-31 was born approximately this year.[2]
By this time, and possibly before; Cyborg becomes a member of the New Teen Titans.[3] This apparently didn't last that long, as he was uninterested in continuing as part of a superhero team, since maintaining an alter ego when you have visible cybernetic parts was impossible.[4]
Previous Year
Next Year
References
External Links