1968 was the ninth year of the 1960s and the sixty-eighth year of the 20th century.
In Connecticut, Helen Keller died on the first of June.[1]
Earth-1A History
Date Unknown
On one notable evening, twenty-six year old Bruce Wayne was toying with the idea of becoming a police officer, when, like an omen, a bat flew through a window in Wayne Manor. It was then he came up with the idea to become a masked vigilante crime-fighter: Batman, the Dark Knight to strike fear into the hearts of all evil men![2]
Date Unknown
Around this time, a terrible tragedy occurred when Haly's Circus was visiting Gotham City. The crime boss known as Tony Zucco sabotaged the Flying Grayson's circus act, causing John and Mary Grayson to fall to their deaths. The young Dick Grayson, who was about ten years old at that time, survived, as he didn't fall off of the trapeze like his parents did. With that, Bruce Wayne takes the boy, adopts him, and trains him to become a costumed crime-fighter, and the boy takes on the identity of Robin.[3]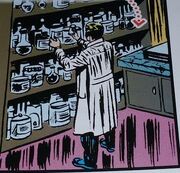 Central City police scientist Barry Allen gains super-speed. Inspired by his boyhood hero, the Flash, Barry becomes the Flash - in the real world'. (NOTE: Barry Allen's first appearance was the first Silver Age origin to make specific reference to a Golden Age counterpart, who was described as a comic book character).[5]
Previous Year
Next Year
External Links
References
Community content is available under
CC-BY-SA
unless otherwise noted.