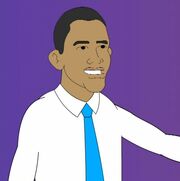 1961 was the second year of the 1960s and the sixty-first year of the twentieth century.
It was probably around this time, that Clark Kent, now twenty-one years old moves to Metropolis. His days as Superboy were a now a thing of the past.
From now on he's known as Superman.[2]
On the twentieth of January, John F. Kennedy became the President of the United States.[3]
On January 30, The Yogi Bear Show premiered on CBS.[4]
On the fourth of August, Barack Obama was born in Honolulu, Hawaii.[5]
Previous Year
Next Year
References
External Links
Community content is available under
CC-BY-SA
unless otherwise noted.