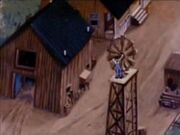 1957 was the eighth year of the 1950s and the fifty-seventh year of the 20th century.
On the fourteenth of January, Humphrey Bogart died from cancer in Los Angeles.[2]
In 1957 Superboy is attacked by three Kryptonian supervillains from the future, Hul, Logar and Rom-Lok.
Superman and Green Lantern arrive in this year from 1983 to protect the Boy of Steel from being killed by these three Phantom Zoners.[3]
The Whopper, a new hamburger, is introduced at Burger King, it becomes the company's signature sandwich.[4]
On the second of May, former Senator Joseph McCarthy died in Maryland.[5]
Mrs. Alvarez became the personal secretary of the politician named Baccharis this year.[6]
Previous Year
Next Year
References
External Links
Community content is available under
CC-BY-SA
unless otherwise noted.