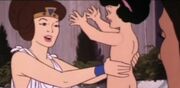 1941 is the second year of the 1940s and the forty-first year of the 20th century.
Wally Sites was born this year.[2]
Kal-El was most likely born this year, to Jor-El and Lara in Kryptonopolis on Krypton.[3]
A young girl is molded from clay by Hippolyta, and brought to life by Aphrodite, who named her after the moon goddess; Diana.[4]
On the thirteenth of May, Ritchie Valens is born in California.[5]
In December of this year, the attack on Pearl Harbor was a turning point of World War II, prompting the USA's entry into the war and also giving incentive to Frank Rock to enlist in the United States Army; and leading to the founding of the All-Star Squadron.
Previous Year
Next Year
References
External Links
Community content is available under
CC-BY-SA
unless otherwise noted.