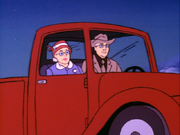 The 1940s was a time during the 20th century that could be viewed as one of the most horrendous times in Terran history. It was during this time that World War II raged all over the Earth. Millions of people are killed. The planet Krypton is also destroyed at this time.[2]
Although this was a very negative time for Krypton and Earth, there was also positive things happening as well. It was during this decade that the Justice Society of America was founded.[3]
Also, despite Krypton's destruction, a survivor lands on Earth, in Smallville, Kansas, where he is raised by a loving farming couple.[4]
On Earth-Two, Kal-L is already fully grown; unlike his Earth-One counterpart who is still a baby; and he begins his career as Superman, and he eventually even joins the Justice Society of that Earth.[5]
Years
Previous Decade
Next Decade
References
External Links
Community content is available under
CC-BY-SA
unless otherwise noted.