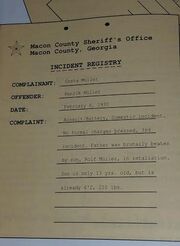 1930 was the first year of the nineteen thirties and the thirtieth year of the twentieth century.
On February 6, in a parallel universe inhabited by a group of heroes that were not the Justice League, Henrik Müller was brutally beaten by his thirteen-year-old son, Rolf Müller, in retaliation. No formal charges were pressed, although a police report was filed in Macon County, Georgia.[2]
On March 17, James Irwin was born in Pittsburgh, Pennsylvania.[3]
On April 14th, the very first cartoon short from the Looney Tunes series was released in movie theaters.[4]
In Georgia, Ray Charles was born on the twenty-third of September.[5]
Previous Year
Next Year
References
External Links
Community content is available under
CC-BY-SA
unless otherwise noted.