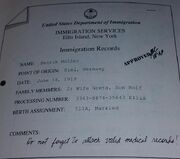 1919 was the tenth and final year of the nineteen tens decade and the nineteenth year of the twentieth century.
Theodore Roosevelt died on the sixth of January in Oyster Bay, New York.[2]
In Hollywood on the sixth of May, L. Frank Baum died.[3]
In a parallel universe, a document from the United States Department of Immigration about Henrik Müller was dated June 14, 1919.[4]
Previous Year
Next Year
References
External Links
Community content is available under
CC-BY-SA
unless otherwise noted.