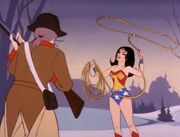 1727
Isaac Newton dies this year.
1738
George Frederick was born.
1759
Robert Burns, writer of the poem To A Mouse, is born in Scotland.
1776
Wonder Woman and the Atom arrive via time travel to this year and find themselves in the middle of the Revolutionary War and meet George Washington.
1790
Victor Frankenstein[2] creates the monster known as the Frankenstein Monster (or the 'Spawn of Frankenstein'), who eventually names himself Adam Frankenstein.[3] [Note: This story is based on the 1818 novel by Mary Shelley called Frankenstein or The Modern Prometheus.]
1796
Robert Burns dies this year.
1799
Mary Howitt is born in England.
Decades
Years
Previous Century
Next Century
External Links
References