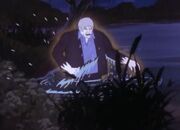 1895 was the sixth year of the 1890s and the ninety-fifth year of the 19th century.
This year was most likely the date that Cyrus Gold was murdered and thrown into Slaughter Swamp.[2]
J. Edgar Hoover was born on the first of January in Washington.[3]
Previous Year
Next Year
References
↑ As seen in Monolith of Evil (1978).
↑ Another possible date is 1894, based upon the Earth-Two version of the character, but if we're to go by the Earth-One version of the character, this year would be the correct date. Still, the Super Friends version of Grundy is not the same as either, so it's all merely speculation.
↑ This is conjecture based on real life.
External Links
Community content is available under
CC-BY-SA
unless otherwise noted.