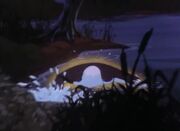 1894 was the fifth year of the 1890s, and the ninety-fourth year of the 19th century.
This year was possibly the year that Cyrus Gold was murdered and tossed into Slaughter Swamp, but this more likely happened the following year.[2]
Previous Year
Next Year
References
↑ As seen in Monolith of Evil (1978).
↑ The exact year (or century or decade for that matter) was never revealed in the Super Friends, however, in DC Comics, the Earth-Two Cyrus Gold was killed in 1894. Still, the Earth-One Cyrus Gold was killed in 1895, making that date more likely, since the Solomon Grundy of the Super Friends Universe is more based upon the Earth-One version, considering the timeframe. Nevertheless, this is only conjecture.
External Links
Community content is available under
CC-BY-SA
unless otherwise noted.