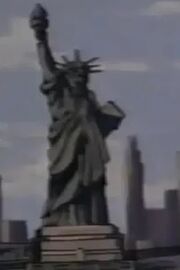 1886 was the seventh year of the 1880s and the eighty-sixth year of the 19th century.
On the twenty-eighth of October, the Statue of Liberty is dedicated.[2]
Around this time, Doctor Henry Jekyll developed a potion that caused him to transform into a monster that represented his alternate personality. This monster was called Mister Hyde.[3]
Previous YearEdit
Next YearEdit
ReferencesEdit
↑ As seen in The Kid Super Power Hour with Shazam! episode Star Master and the Solar Mirror (1981).
↑ This is conjecture based on real life.
↑ This is conjecture based on DC Comics, as well as the publication date of the book.
External LinksEdit