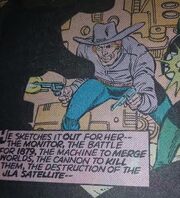 1879 was the seventy-ninth year of the nineteenth century and the tenth and final year of the eighteen seventies.
The Battle for 1879 happens this year in Coyote, Texas.[2]
Albert Einstein was born in the German Empire on the fourteenth of March.[3]
According to Doctor Frankenstein, Doctor Victor Frankenstein created a monster in his European castle. More than likely this happened considerably earlier in this century, because the book known as Frankenstein; or, The Modern Prometheus, which was based upon his life and creation was published in 1818, so it would have had to have been before that.[4]
Previous Year
Next Year
References
External Links
Community content is available under
CC-BY-SA
unless otherwise noted.